Translation Strategies of Tourist Attraction Names in Thailand to Chinese
Keywords:
translation strategies, tourist attraction names in Thailand, Chinese
Abstract
This article aimed to examine translation strategies of tourist attraction names in Thailand to Chinese, to analyze distinctive points and weak points of translation strategies toward tourist attraction names in Thailand to Chinese and to examine Guidelines to translate name of places from Thai to Chinese. The sample used in this study consisted of 645 names that appeared in Thailand      (《泰国》). Perter Newmark's translation theory was used to analyze translation strategies that were divided into 2 types. There were SL emphasis and TL emphasis.
The result showed that Chinese translation strategies consisted of 4 types. There was a transcription, naming, free translation, and mixed strategies translation. In addition, these 4 strategies could be divided into sub-19 types that each had a different distinctive point and weak point, and the translation of the proper name from Thai to Chinese was prevalent.
Among these strategies used, transcription and literal translation were the highest at 51 percent. A transcription in syllables was 13.02 percent. The literal translation was 6.04 percent. A transcription without syllables together with literal translation was 4.80 percent and transcription in adding syllables with literal translation was the lowest at 4.50 percent. Regarding the quality of translation, the translator should understand the source language and the target language in terms of meaning and translators should be able to select strategies for translation appropriately, and correctly.
References
Chaitheerasuwet, P., & Srihirun, M. (2019). Lampang tourist attraction names: strategies and errors in translation from Thai to Chinese. Silpakorn University Journal, 39(5), 22-41. (In Thai)
Chantarakhet, C. (1985). Translation for communication. Bangkok: Thai Wattana Panich Press. (In Thai)
Chaojirapant, C., & Patjaikhunnatham, N. (2019). The study of store name translation from Chinese to Thai language in Sathorn district, Bangkok. Academic Journal for the Humanities and Social Sciences Dhonburi Rajabhat University, 2(2), 54-65. (In Thai)
Dictionary Editing Office, Institute of Linguistics, Chinese Academy of Social Sciences. (2014). A dictionary of current Chinese (489th ed.). Beijing: The Commercial Press. (In Chinese)
Jatupornpimol, K. (2014). A translation of Thai tourist attraction names into Chinese. Journal of the Faculty of Arts, Silpakorn University, 36(1), 226-244. (In Thai)
Leelaniramol, N. (2013). An analytical study of problems in translating Chinese fantasy fiction into Thai. A thesis submitted in partial fulfillment of the requirements for the degree of Master of Arts program in Chinese Department of Eastern Languages Faculty of Arts, Chulalongkorn University. (In Thai)
Newmark, P. (1982). Approaches to translation. Oxford: Pergamon Press Ltd.
______. (1988). A textbook of translation. London: Prentice Hall International Book Distributors Ltd.
______. (2001). A textbook of translation. Shanghai: Shanghai Foreign Language Education Press.
Numtong, K. (2020). Translation skills from Chinese to Thai. Bangkok: Eastern Languages, Faculty of Humanities, Kasetsart University. (In Thai)
Pinmanee, S. (2003). Advanced translation. Bangkok: Chulalongkorn University. (In Thai)
Pinpongsub, J. (2018). The method of translating the title of Thai movie to Chinese.Veridian E-Journal, Silpakorn University, 11(3), 1471-1491. (In Thai)
Royal Institute. (2013). Dictionary of the Royal Institute B.E.2554 (2nd ed.). Bangkok: Royal Institute. (In Thai)
Thamcharoenkit, K. (2002). Principles of translation Thai into Chinese. Bangkok: Jin Siam Press. (In Thai)
Todongtong, S., & Netsombutphol, J. (2019). Translation strategies of the tourist attractions names in Chinese to Thai: A case study of guide to Thailand book. Phranakhon Rajabhat Research Journal (Humanities and Social Sciences),14(2), 342-358. (In Thai)
Tuntulakorn, W. (1996). Problems in translating proper nouns. Humanities Journal, 4(1), 89-111. (In Thai)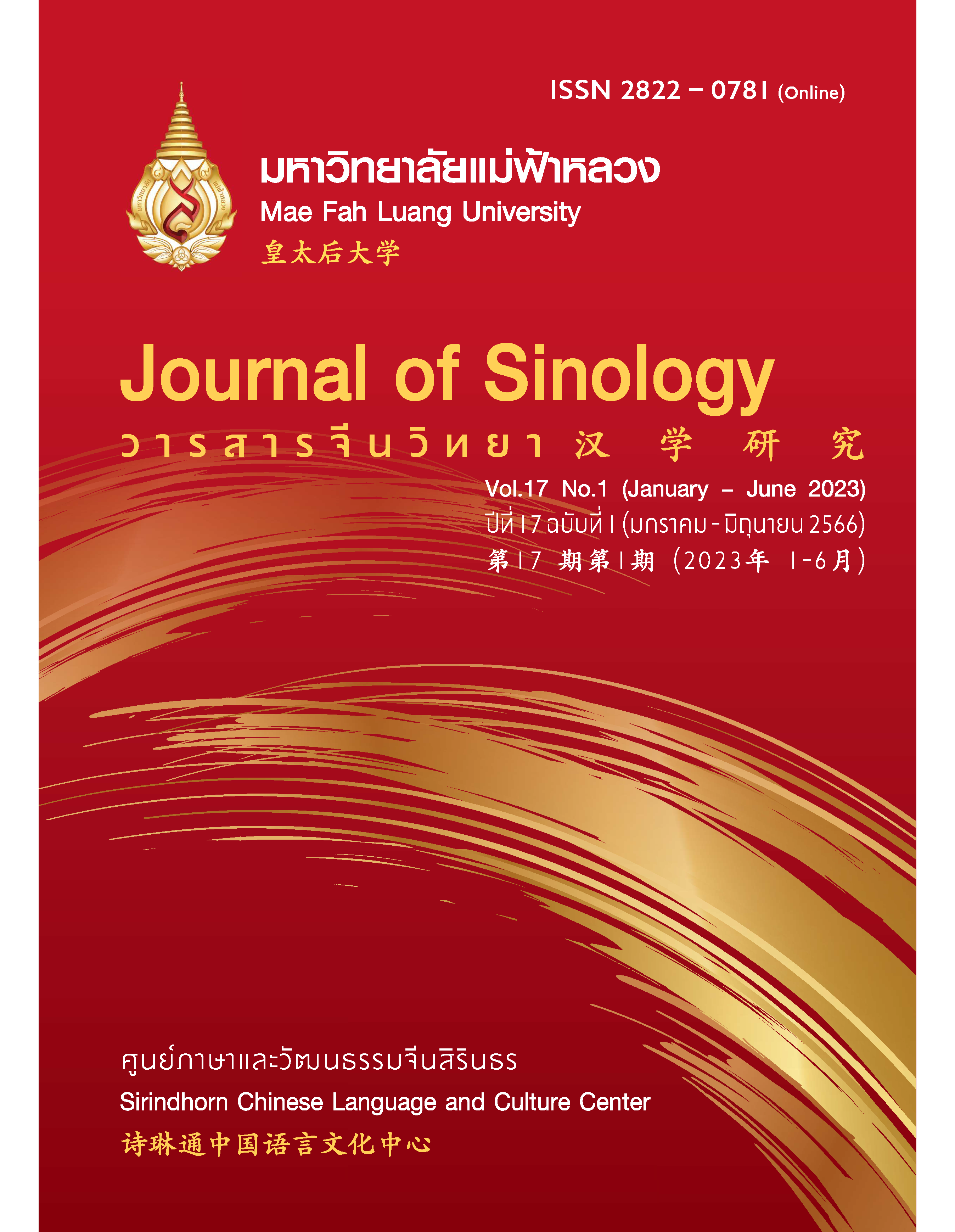 Downloads
How to Cite
CHOMPHICHIT, A. (2023). Translation Strategies of Tourist Attraction Names in Thailand to Chinese. Journal of Sinology, 17(1), 56–80. Retrieved from https://journal.mfu.ac.th/index.php/jsino/article/view/81
Section
Research Articles