Lawo in Ancient Chinese Manuscripts
A Study of Relationship between Lawo and China in Ancient Chinese Manuscripts and Chinese Ancient Documents
Keywords:
Lawo Kingdom, Relationship, Ancient Chinese Manuscripts, Chinese Ancient Documents
Abstract
This research aims to study the relationship between Lawo Kingdom and China in different periods. According to the Chinese ancient documents and Chinese chronicles, which recorded the stories of Song Dynasty to the Yuan Dynasty. The first historical research is collected in Chinese literature and historical records related to the book of documents and chronicles of China related to Thailand by Huang Chongyan & Yu Dingbang (2016), based on the concept of the theory of interstates and countries. The scope of the study of international relations in the history of international relations and diplomacy based on the concept of relations between states or countries. The results showed that there are 9 ancient documents and chronicles of Chinese chronicles during the Song Dynasty to the Yuan Dynasty that contain records about the Lawo Kingdom or "Luohu". There are 4 relationship forms between Thailand and foreign countries. The result of this study showed that 1. Tribute relationship model is the most common in ancient documents and chronicles, 2. Mutual assistance model, 3. Conflict relationship model, and 4. Other relationship model. Others include promoting cultural relations. This dynamic relationship model is driven by factors of political policy, governance and changes in the dynasty of China. However, the Lawo Kingdom continued to have relations through the tribute system with the Chinese royal court until the later merger of the Xianluo Kingdom.
References
Board of Directors, Courses 80308. (2006). Thai and foreign relation, in teaching document courses 80308 the relationship between Thailand and foreign countries. [Unpublished manuscript]. The University Press Sukhothai Thammathirat Open University. (In Thai)
Boosabok, P. (2022). Chinese documents in the Ming and Qing Dynasty related to Thai History during the period of Ayutthaya. Journal of Arts and Thai Studies, 44(1), 134-145. (In Thai)
_______. (2017). Book recommendation: Ming Shilu-Qing Shilu true story of the Ming dynasty and Qing dynasty episode about Siam, and Thai diplomatic distance book to Beijing China of Indra Montree Yam. Journal of the Faculty of Arts, Silpakorn University, 39(1), 288-294. (In Thai)
Boosabok, P., & Siripaisarn, S. (2020). Trade relation between China and Southeast Asia in Qin dynasty to Yuan dynasty (221 BC-1368 AD). Silpakorn University Journal, 40(3), 62-74. (In Thai)
Chontawan, N. (2017). Lawo than to be Lopburi. Lopburi: N.P. (In Thai)
Chueamongkol, K. (2020). China-Siam, the bond of friendship from Sukhothai to Rattanakosin. (2nd ed). Bangkok: Siam Knowledge. (In Thai)
Deng, H. (2019). Historical controversy over the name change from Xianluo to Siam. Journal of Yunnan Provincial Party School of CPC, 2019(300), 32-36. (In Chinese)
Historical Group Office of Literature and History. (2022). Thai-Chinese relations from the
document Yuan Ming Qing Dynasty. Bangkok: Office of Literature and History,
The Fine Arts Department. (In Thai)
Huang, Ch. & Yu, D. (2016). Information of Thailand in ancient Chinese Documents. Beijing: Beijing University Press. (In Chinese)
Numtong, K. (2020). Evidence of Lanna Kingdom in Ancient Chinese manuscripts: Records of Eight Hundred Concubine Kingdom in Ming and Qing Dynasty Manuscripts.Chinese Studies Journal, Kasetsart University, 13(2), 1-113. (In Thai)
Pongsripian, W. (2015). Nopburi's memory heritage Sri Lawodaipur on the poem in honor of Somdej Vishnu and the ancient inscriptions of Lawo city. Bangkok: Princess Maha Chakri Sirindhorn Anthropology Centre. (In Thai)
Prime Minister's Office. (1997). Criteria for transcribing Chinese characters instead of
Mandarin with Thai characters. Bangkok: Thammasat Printing House. (In Thai)
Promboon, S. (1982). Sino-Siamese tributary relation 1282-1853. Bangkok: The Foundation for the Promotion of Social Sciences and Humanities. (In Thai)
Qian, J. (2017). Seeking recognition from the son of heaven: King Taksin's Siam and Qing China during the late 18th century. Political Science Journal, 37(2), 1-23. (In English)
Rungruang, J. (2016). The Sino-Siam tributary relations. Journal of International Studies, Prince of Songkla University, 6(1), 137-152. (In Chinese)
Rungsirisangrat, W. (2003). From Lawo to Lopburi. Bangkok: Thaiwattanapanish. (In Thai)
Saenchit, K. (2010). Ancient Haripunjaya based on Archaeological Evidence. [Doctor 's thesis,
Silpakorn University]. Silpakorn University Repository.
http://www.sure.su.ac.th/xmlui/handle/123456789/12756?attempt=2& (In Thai)
Sittitanyakit, P. (2013). Khmer And Lawo kingdoms. Bangkok: Puenrian DekThai. (In Thai)
Siripaisarn, S., & Boosabok, P. (2018). The translation into Thai and study of Ancient Chinese records relating to Thailand in connection with the maritime silk road research report. Princess Maha Chakri Sirindhorn Anthropology Centre (Public Organization). (In Thai)
Jakkrapatdipong (Jad), Pra. (1959). The Royal Chronicle of Ayutthaya Pra Jakkrapatdipong (Jad)' s Edition. Mahamakuta Rajavidyalai Press. https://digital.library.tu.ac.th/tu_dc/frontend/Info/item/dc:137077. (In Thai)
Tian, Y. (2007). A study of the reunification of the Xian and Lawo kingdoms. Crossroads: Southeast Asian studies, 2007(5), 17-30. (In Chinese)
Wongted, S. (2018, July 15). Before there was Thainess in the Chinese sampao in Ayutthaya.
http://www.matichonweekly.com/column/article_114302. (In Thai)
Wang, D. (2019). Tracing the diary of Siam's travels Thai cultural heritage study. Popular Archaeology, 2019(7), 76-83. (In Chinese)
Wang, Y. (2020). The relationship of paying tribute between China and Xian (1869-1893). Overseas History Research, 2020(2), 52-69. (In Chinese)
Yothi, P.,Luang (1939). Thailand in Chinese mythology. Bangkok: Prajan. (In Thai)
Zhou, F., & Ongsakul, S. (2020). The tributary relations between China and Lan Na in the late 13-16th centuries. Chinese Studies Journal, Kasetsart University,13(2), 232-250. (In Thai)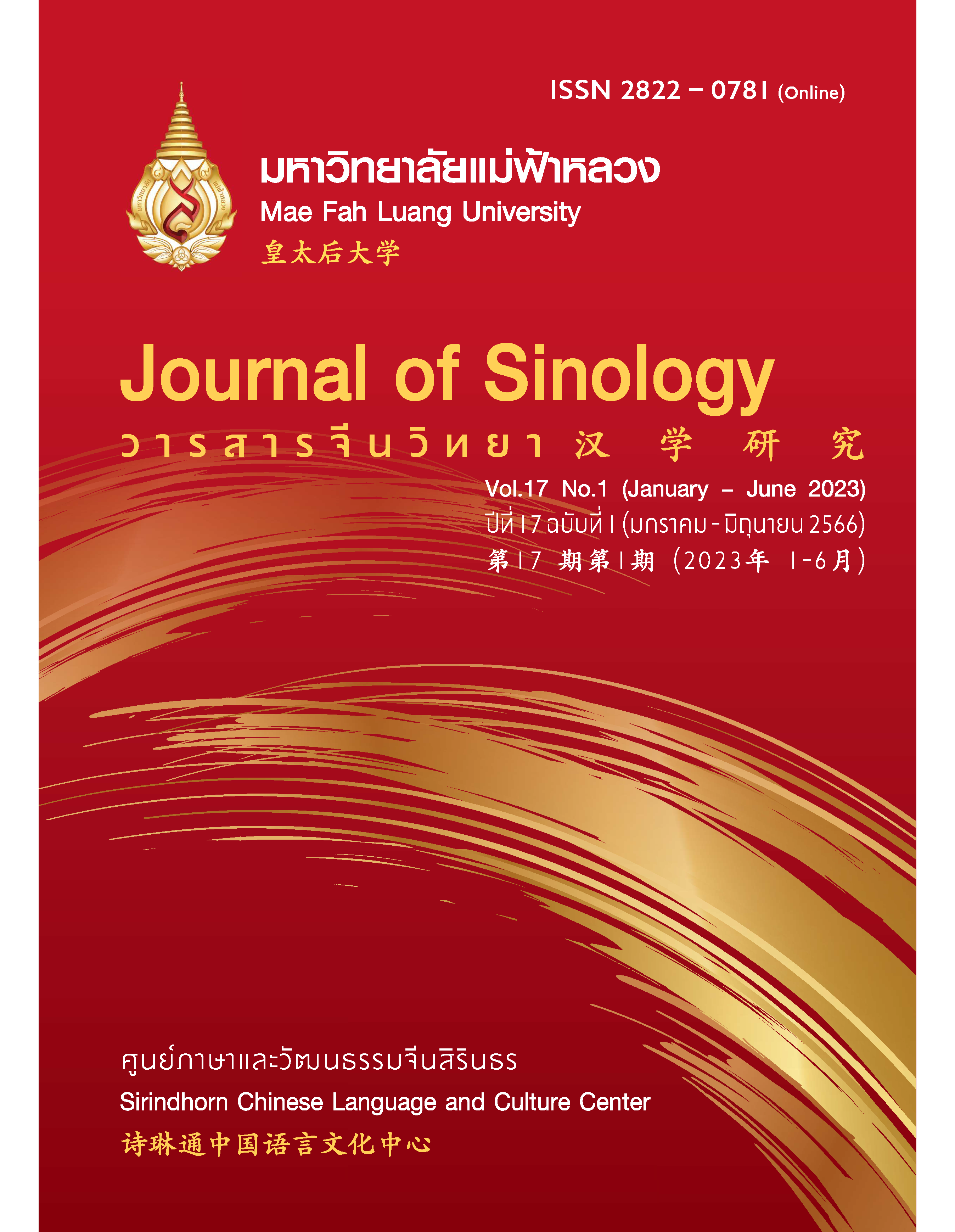 Downloads
How to Cite
PRAPAGORN, puthep. (2023). Lawo in Ancient Chinese Manuscripts: A Study of Relationship between Lawo and China in Ancient Chinese Manuscripts and Chinese Ancient Documents. Journal of Sinology, 17(1), 81–106. Retrieved from https://journal.mfu.ac.th/index.php/jsino/article/view/80
Section
Research Articles