Glimpsing the Guanyin Amulet in Thailand
Keywords:
Thailand, amulet, Guanyin, cultural diffusion
Abstract
As a Buddhist deity with Chinese characteristics, Guanyin has gradually spread in Thai people as the Thai-Chinese community entered Thailand. We first conducted questionnaires and interviews, and then collate the information of  Guanyin amulets that were blessed by Luang Phor Bao Earng Luang Pu Toh Luang Phor Koon Luang Phor Kasem Luang Phor Pern and which are made in Wat Bowonniwet Vihara and Wat Hua Lampong to better understand the impact of Guanyin in Thailand. To examine the evolution of the Guanyin amulets and to investigate potential causes for the Guanyin faith's popularity in Thailand, the history, image, and characteristics of the Guanyin amulets are arranged.
The study found that the Guanyin amulets combine the Chinese pedigree and image with Thai worship and function. The Guanyin amulet is a type of cultural transmutation that inevitably happens when the Guanyin faith actively adapts to the local environment and cultural traditions of Thailand using its own unique characteristics. It can only be widely disseminated with the joint promotion of Buddhism's inclusivity and the social influence of Thai-Chinese. The widespread Guanyin belief in Thailand serves as an effective illustration of the successful cultural exchange between China and Thailand.
References
Chantima, U. (2018). Producing amulets of value in Thai society. Journal of Buddhist Studies Chulalongkorn University, 25(3), 27–59.
Chua, A. L. (1998). Markets, democracy, and ethnicity: Toward a new paradigm for law and development. The Yale Law Journal, 108(1), 1-107.
Draper, J., & Selway, J. S. (2019). A new dataset on horizontal structural ethnic inequalities in Thailand in order to address sustainable development goal 10. Social Indicators Research, 141(1), 275-297.
Government Gazette, Ministerial Regulation No. 3 (B.E. 2520). (1977).
Hua, S. (1997). A short discussion of Thai Kuan Yin's development. Thinking, 2, 86-90. (In Chinese)
Khaowong, F. (2021). Translational strategy of pattern title of Phra Somdej into Chinese in emperor of amulets. Chinese Language and Culture Journal, 8(2), 21–38.
Kobkit, P., Muhammad, C., Pathum, B., & Dechochai, U. (2021). Guanyin: The background of faith and ritual's of Ban-sunthornon community Yan ta khao sub-district Yan ta khao district Trang province Thailand. Journal of Social Science Development, 4(2), 64–77.
Li, L.A. (2008). The history and spread of Guanyin belief. China Religious Culture Publisher. (In Chinese)
Li, X.L. (2020). The sexual shift of Avalokitesvara and the soft and feminine character of Chinese buddhism. Chinese Aesthetical Researches, 15, 81–92/305. (In Chinese)
Limyothin, P. (2013, Oct.29). From tom-yam-kung to hamburger crisis. https://web.archive.org/web/20110930081402/http://www.hu.ac.th/academic/article/Mk/Hamburger%20Crisis.htm
Luo, Y. (2016). Photo essay: Guanyin worship among the Thai Chinese. Prajñā Vihāra: Journal of Philosophy and Religion, 17(1), 107–129.
OngSonPhaNaMathurot. (1968). Pathakatha tang rueang. Prayoon Wong Printing Co., Ltd.
Ou, S.J. (2009). Buddhist accommodate the spirit of equality and its ethical significance. Studies in Ethics, 2, 80–83. (In Chinese)
Panyapa, R., & Thaminlad, A. (2022). The rules for Avalokitesvara bodhisattva devotees (Guanyin goddess). Paṇidhāna Journal, 18(1), 187–209.
Phophai, P. N. (2018). The amulets and conveying through the ideologies, beliefs and religions in Thai society. Journal of MCU Peace Studies, 6(2), 656–668.
Sangiam, S. (2021). The legend of princess Miaoshan: Becoming a bodhisattva under the influence of the three teachings. The 6th National Conference on Chinese Studies, Thammasat University.
Su, Y. L.(2011). The mystery of Guanyin bodhisattva. China Religious Culture Publisher. (In Chinese)
Teanpewroj, P. (2020). Srivijaya art Avalokitesvara bodhisattvas found in southern Thailand from the eighth to thirteenth centuries. Journal of Liberal Arts Prince of Songkla University, 12(1), 157–179.
Wu, Z.B. (2017). The development of Chinese Nikaya Mahayana Buddhism in Thailand. Chinese Studies Journal, 10(2), 169–185. (In Chinese)
Wat Tum Singto Thong (2013, April 11). The history of Luang Poo Toh. http://wattum-singtothong.blogspot.com/2013/04/blog-post_4441.html
Xie, L.J. (2015). From the sacred to the secular: To research a Buddism godness Avalokiteśvara feminine artistic image. [Master's thesis]. Central China Normal University. (In Chinese)
Xie, P. (2006). Chinese loving of Dhanin Chearavanont. http://www.chinaqw.com/news/2006/0107/68/12129.shtml (In Chinese)
Xie, Z.B. (2014). Avalokitesvara statues and Buddhist art in Wei Jin Southern and Northern dynasties [Master's thesis]. Northwest University. (In Chinese)
Yu, C. F. (2012). Kuan-yin: The Chinese transformation of Avalokiteśvara. Commercial Press. (In Chinese)
Zheng, J. Z. (2000). Education culture study. People's Education Press. (In Chinese)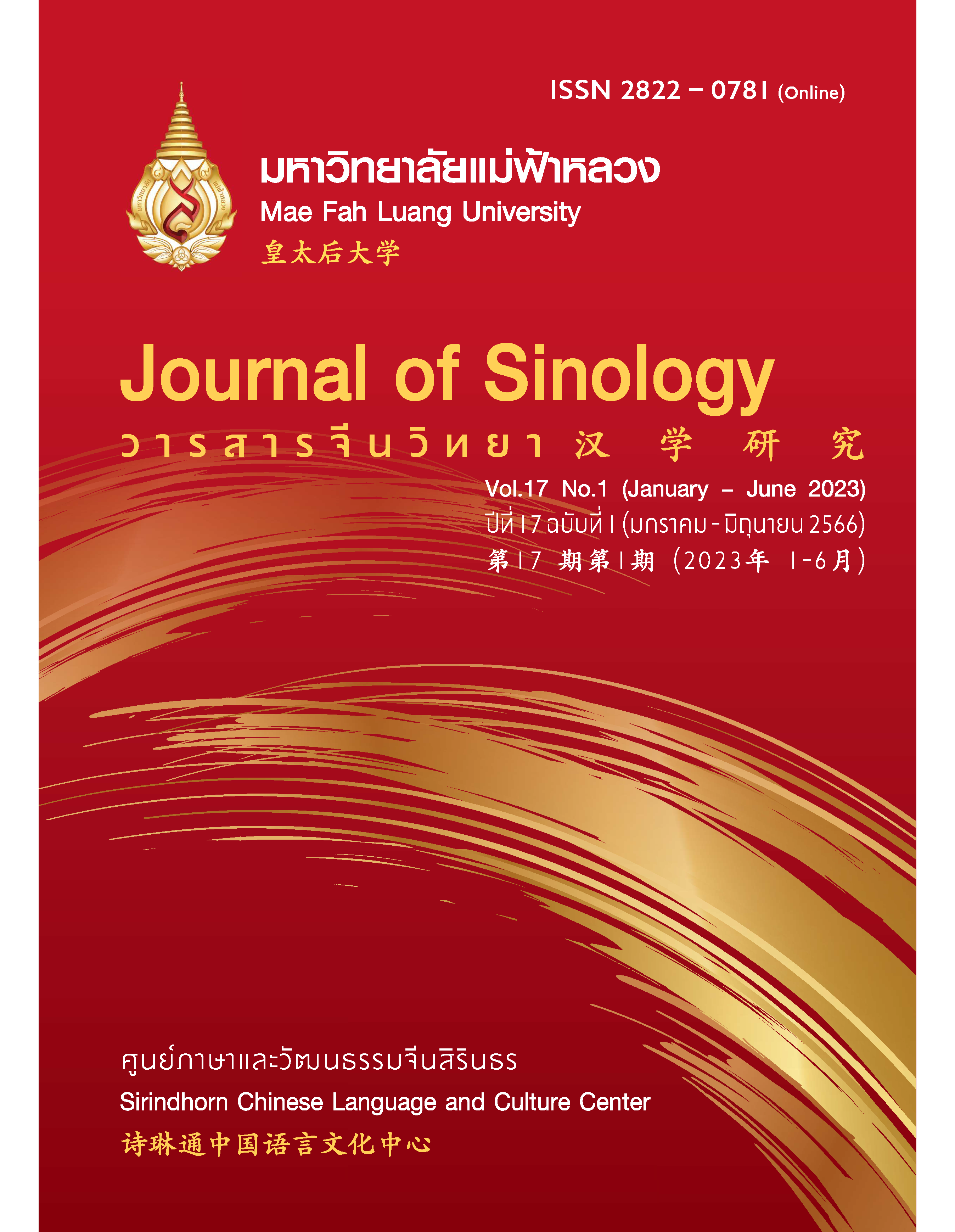 Downloads
How to Cite
YAO 祖., & NUMTONG 琼. (2023). Glimpsing the Guanyin Amulet in Thailand. Journal of Sinology, 17(1), 107–126. Retrieved from https://journal.mfu.ac.th/index.php/jsino/article/view/82
Section
Research Articles