A Comparative Study on Security Governing of Smart City
A perspective of taking Singapore and Shanghai for example
Keywords:
Smart city system, City security, City governance
Abstract
From the perspective of smart city security governance, this paper analyzes the development process of smart city and the important role of security in smart city governance and construction. On this basis, using the domestic and abroad, a think-tank, related research report on global cities, related city yearbook data, as well as the related research results of scholars at home and abroad, for wisdom city security elements, characteristics and relevant theoretical analysis, model of security system and build the wisdom city formed in this paper, some views about wisdom city security. Thirdly, by comparing the contents of Shanghai, Tokyo and Singapore in terms of urban security for reference, the important role of smart city security system model in smart city governance is further verified to provide reference basis. And through the case analysis, combined with the 2021 outbreak of the new champions league Shanghai performance in fighting the epidemic show wisdom city security system in the urban development the important role of wisdom, make full use of the government, enterprises and citizens in the unity, coordination and three aspects should be modified, play a significant role in city construction, wisdom for other global cities in the event of a major public events, How to carry out emergency management work provides important reference value. Finally, through the form of questionnaire, the author investigates and studies the feelings of urban residents living in Shanghai on the smart city governance of Shanghai, and further verifies that "security" is the core element of smart city governance.
References
He, Ch. (2014). Singapore: From smart city to smart nation. China Information Industry, 2014(12): 20-25.
Kurzweil, R. (2011). Singularity approaching [Qi dian lin jin]. Beijing: China machine press.
Li, D.R. (2012). The concept of smart city. Engineering Research, 2012(04): 313-323.
Liu, X.H., & Lai, D.X. (2016). Singapore's "smart 2025" development plan. China Construction Informationization, 2016(09): 24-25.
Ma, J.Y. (2020). Smart city solutions in Singapore. Shanghai Information Service Platform.
Sun, J.Sh. (2017). Research on the Singapore model. Taxation, 2017(09): 109-119.
Toppeta, D. (2010). The smart city vision: How innovation and ICT can build smart, livable, sustainable cities. The Innovation Knowledge Foundation.
Wang, H. (2010). Smart city. Beijing: Tsinghua University Press
Wu, Zh.F. (2013). Research on smart city construction model. Journal of Surveying and Mapping Science and Technology, 2013(03): 320-324.
Yang, J. (2019). Bansongyuan police station: Protect residents' safe life with smart public security. Shanghai Comprehensive Political and Legal Governance Network.
Zhen, B. (2015). Multi-pronged construction of safe city. Liaoning Daily.
Zhou, Zh.R. (2004). Building virtual government: Information technology and institutional innovation. Beijing: China Renmin University Press.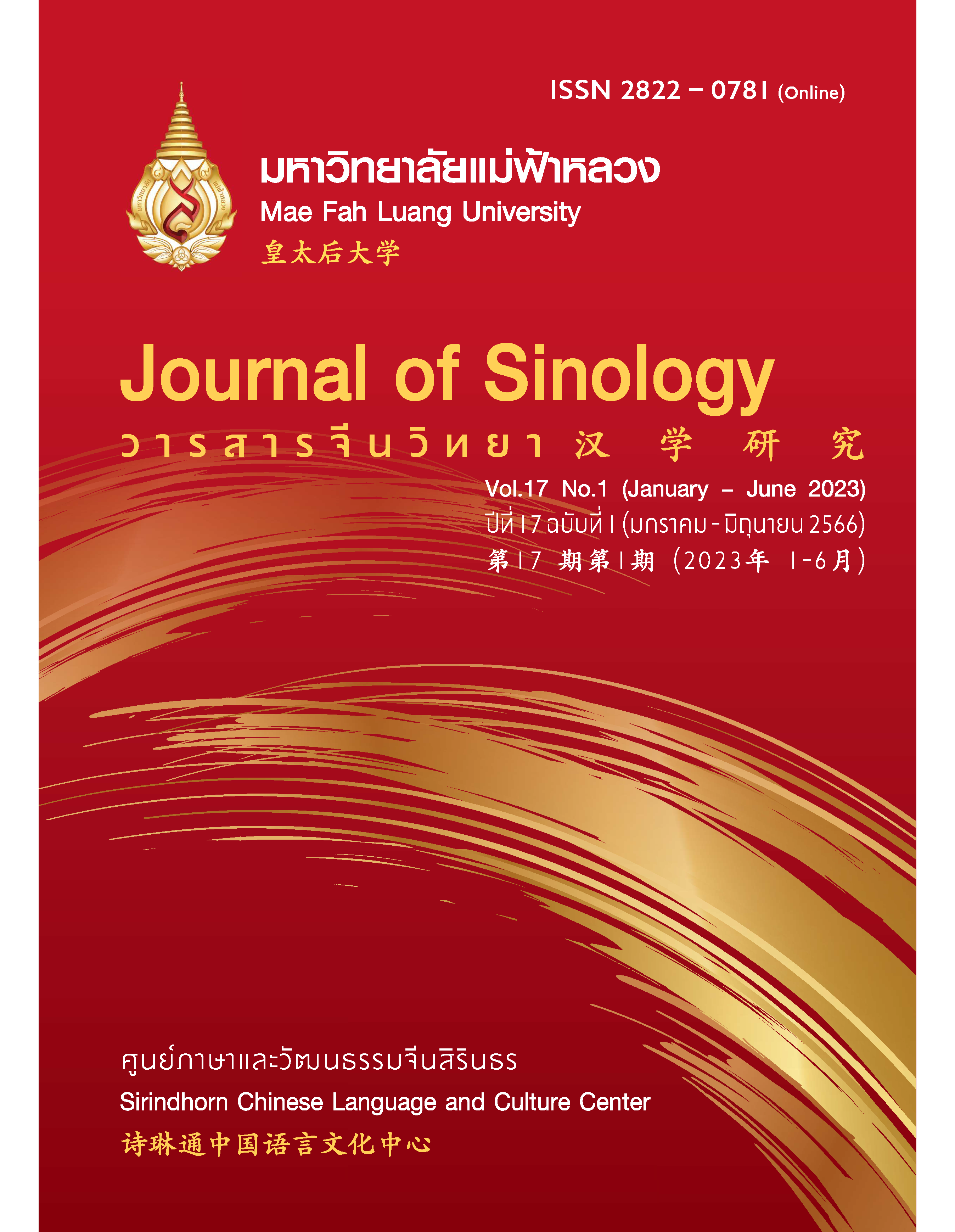 Downloads
How to Cite
LU, P., & BI, W. (2023). A Comparative Study on Security Governing of Smart City: A perspective of taking Singapore and Shanghai for example. Journal of Sinology, 17(1), 128–144. Retrieved from https://journal.mfu.ac.th/index.php/jsino/article/view/72
Section
Academic Articles